JUST FOR FUN…Did you know that July is National Ice Cream Month?
By Debbie Israel, APR
Owner & PR + Marketing Strategist
As a child, do you recall the ubiquitous summertime chant, "ice cream, ice cream, we all scream for ice cream?" It must have been heard loud and clear as in 1984, President Reagan declared July National Ice Cream Month. Thirty years later we're celebrating the frosty treat by highlighting the most popular flavors across America. Ice cream purveyor extraordinare, Baskin-Robbins recently helped pinpoint the top ice cream flavors by state…and "yo Pennsylvania," it looks like our favorite flavor is vanilla?! Who would have thought this to be the choice with all of the ethnic, cultural, socio-economic and financial diversity across this large state??! The even bigger reveal is that nearly all of PA's neighboring states had a similar weigh in with the exception of West Virginia which stepped outside the carton with chocolate!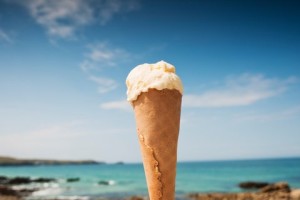 Delaware: Vanilla
New Jersey: Vanilla
New York: Vanilla
Ohio: Vanilla
West Virginia: Chocolate
FACT: Americans today eat 12.9 pounds of ice cream each year. We also eat 6.0 pounds of low-fat ice cream, 1.4 pounds of frozen yogurt, 0.9 pounds of sherbet and 1.8 pounds of other frozen dairy products.
Sources: Parade Magazine, July 13, 2014 + USDA, Economic Research Service, Trends in U.S. Per Capita Consumption of Dairy Products, 1970-2012