Email Newsletters Still a Top News Source for Business Executives
By Debbie Israel, APR
Owner & PR + Marketing Strategist
Business executives are still getting much of their news from email and email newsletters, said a recent survey from Quartz, a business-news website and content publisher.  As a Nieman Journalism Lab post reported on May 29, 60 percent of executives surveyed said that an email newsletter is one of the first three news sources they turn to in the morning*—ahead of news apps, social networks, or news sites on mobile devices or desktops.  The research surveyed 940 executives in fields like finance, technology, media, health care and management consulting.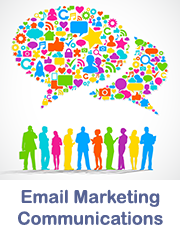 Fifty-six percent said that an email newsletter is a primary source for staying current on industry news, which was ahead of industry-news sites and general-news sites.  Just 3 percent called print their primary news source, and 2 percent cited television.
BIG REVEAL:  Eighty percent said that email is their platform of choice to share news, compared with 43 percent who prefer Twitter for news sharing, 30 percent who use Facebook and 30 percent who choose LinkedIn to share news.
Source:  Forward Thinking, The Public Relations Strategist (PRSA) – Summer 2014
*FACT:  Fifty-eight percent of adults check email first thing in the morning.
RECOMMENDATION:  Best to send your emails early in the day – as you might see an uptick in opens.
Source:  Ezanga 
Help is Just an Email Away
Need help creating an email marketing communications campaign to grow existing client relationships and turn prospective relationships into new business?  No problem, just email Debbie Israel to learn more about Profitcom's experienced, skilled and client-service oriented Email Marketing Communications Team to you provide you with simple and affordable solutions on how to reach your audiences!